---
Home of Agĩkũyũ Literature & Heritage.
---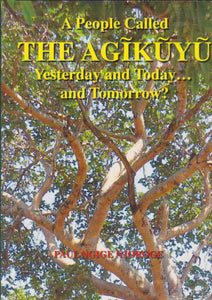 A PEOPLE CALLED THE AGIKUYU: Yesterday, Today and Tomorrow? By Paul Ngige Njoroge
---
MΛTHΛGΛ is an independent rare books and gift store whose aim is to bridge the gap and connect the modern generation of Agĩkũyũ to their history, traditions, culture, and heritage. With a collection of books from renowned and independent publishers, topics ranging from myths and folklore, native languages, history, culture, proverbs, poetry and fiction, you can now buy these books online and have them shipped to wherever you are - locally and internationally, or visit our physical shop at Kikuyu town. Our passion is curating the past, preserving it for posterity, to help create new memories around the fire.
We also stock rare books on Kenyan and African history, cultures, and heritage.
---
Visit Our Shop
Mathaga
(Opposite Kikuyu Railway Station)
Post Office Rd, Kikuyu Town, Kenya.
Phone / WhatsApp: +254 (0) 748 020 200
Open on Mon, Wed, Fri & Sat (10am - 5pm)
Any other day on appointments only.
DIRECTIONS FROM NAIROBI CBD:
Bus: Take Route 102 or 105 matatus and alight at Kikuyu Bus Station. Walk down post office rd to the end - we are opposite the old Kikuyu railway station
Train: Take the evening train from Nairobi Railway Station to Kikuyu town. We are right opposite the train station.