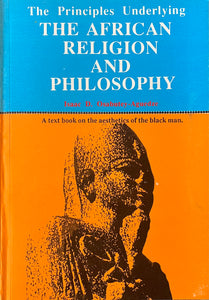 THE AFRICAN RELIGION AND PHILOSOPHY By Isaac D. Osabutey-Aguedze
KSh1,80000

KSh1,800.00

Save KSh200
---
---
Twenty years before the momentous discoveries of professor Cheikh Anta Diop about the historical links e tween Ancient Egypt and modern Africa, a young Gold Coast (now Ghana) research student had presented a Master's Degree dissertation on the 'Rationale of African Religious Rites', (now publishes in the above title) to Syracuse University in U.S.A. His aim, he stated was "to trace the successive stages of African inventive and investigative spirit." Hu, such as:
✔️ Christianity owes a great deal to Egyptian Religion in terms of Doctrine, Ritual and Symbolism. 
✔️ Africa was the home of learning in the fields of writing, painting, weaving, architecture, law, music and ship building. 

✔️ Africa influenced Greece in Religion, Philosophy, Culture and women fashion. 

✔️Before racism set in at the end of the 5th Century, some African rose to the position of Pope in Rome. 

✔️Philosophical speculation was born near the Great Lakes in Central Africa. 

Then followed the extra long sad story of the manuscript finding no publisher for the sake of its contents. Rev. Dr. Osabutey-Aguedze did not live long  enough to witness the publication of his academic labour of love, in 1990. 


---
We Also Recommend