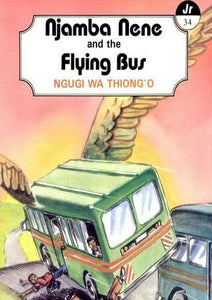 NJAMBA NENE & THE FLYING BUS by Ngūgī wa Thiong'o
Njamba Nene & The Flying Bus is one of a series of Ngūgī wa Thiong'o's children book 'The Adventures of Njamba Nene'.This beautiful story follows a journey of school children on a bus trip to a museum in Nairobi.
They were taken by surprise when the school bus started flying and later dropped them inside an unknown forest. Njamba Nene, who was brought up is a poor family was courageous enough to lead the other children, many of them who were from rich families, through challenging endeavors until they reach heir homes...
Other stories in this series are:
English:
Gīī-gīkūyū:
Njamba Nene na Mbathi Ī Mathagū
Bathitoora Ya Njamba Nene
Njamba Nene na Cibū Kīng'ang'i
---
We Also Recommend