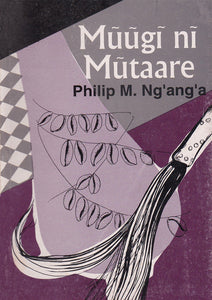 MUUGI NI MUTAARE by Philip M. Ng'ang'a
Ibuku rīrīī rīa ndīkītwo nī arutani a maūndū ma kīīmerera ma Agīkūyū, ma mīikarīre ona mītugo. Kuuma gūciarwo kwa mwana nginya kūhikania, thimo, ndaī ona marebeta.
Born in 1923, Philip Mwīhia wrote this book which vividly portrays the ancient ways of the Agīkūyū people, their proverbs, riddles and poems.
~
Mūthuri ti Philip Mwīhia Ng'ang'a aciarirwo mwakainī wa 1923 itūra-inī rīa Gīcūgū Kīambaa (Kīambu) na agīthomera Kenya Teachers College, Gīthūngūri na Jeans School Kabete. Hamwe na kūrutana ihinda inini, nīarutire wīra makambuni-inī, kanitha-inī na thirikari-inī kinya rīrīa aheirwo ritaya mwaka wa 1982.
---
We Also Recommend