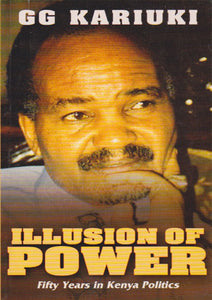 ILLUSIONS OF POWER (50 Years In Kenya Politics) By GG Kariuki
In this book, GG Kariuki, one of the most seasoned post-independence politicians in Kenya, recounts his experiences of half a century in politics. Using vivid reflections, he traverses the entire political landscape right from the pre-independence armed struggle, the constitutional conferences and post-independence power struggles, through to the excesses of the one-party regime and the intrigues of the political reforms at the close of the 20th century. These reflections effectively captures the images that have flashed across the country's political history, foregrounding the concept of power in the struggles for the control of the state and the government.
The author interweaves events and personalities that have shaped the Kenyan state, while identifying the pitfalls in political development since independence. As a politician and inhabitant of the former 'White Highlands', he brings firsthand the intrinsic land problem in these regions to offer the best political treatment of the subject ever written.
This book is a rich exploration of Kenya's political past, spruced up with geopolitical analyses that will help answer the question: 'Which way forward into the 21st century?'
---
We Also Recommend