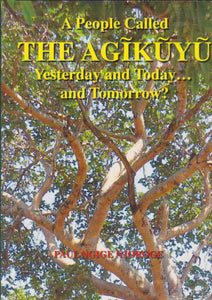 A PEOPLE CALLED THE AGIKUYU: Yesterday, Today and Tomorrow? By Paul Ngige Njoroge
KSh4,30000

KSh4,300.00

Save KSh200
---
---
Around AD 1000, a community of Bantu-Thagicu speakers left the Nyambene Hills area of Igembe-Tigania in present-day northern Meru country in search of new homes. By AD 1400, this community had split into distinct, but closely related, 
Thagicu sub-groups occupying an area running from Meru, through Embu and Kirinyaga to Murang'a, These groups were - from north to south - the Tharaka, Cuka, Embu, Mbeere, Gicugu, Ndia, and the Agikuyu.

Gikuyu national consciousness goes back to the early 1400s. In the next 400 years, the Agiküyü would expand into Nyeri, Kiambu and parts of Nyandarua to occupy "the land between the four mountains, namely, Kīrīnyaga (Mount Kenya Kia Nyandarūa (Nyandarua Range) Kia-Njahi (Kilimambogo), and Kīa-Mbirūirū (Ngong Hills),

The British in the late 19th century round the Agīkūyū building fortified Villages at the outskirts of Nairobi on the southern frontier - and stopped Giküyü expansion in its tracks. What followed was the brutal and tragic drama of a war of conquest and inevitable resistance. The resistance was suppressed. But within the half-century, the Mau Mau war of liberation would break out, and the Agiküyü and their Thagicu (now GEMA Cousins would suffer ruthless repression from the mighty British Empire.

This is the story of the Agīkūyū from their beginnings, through their encounters with foreign white rule, their contribution to Kenya's liberation, and their mixed fortunes since Kenya's national independence-what with their a remarkable contribution to nation-building and economic development, but also their tragic experiences, including attempts at ethnic cleansing targeting them and other communities in the 1990s, and also, most painfully, in 2007-8.

The story is set against the historical background of the trans-Atlantic slave trade, the Scramble for and Partition and brutal conquest of Africa, the struggles for the self-determination of African nation-states as well as nation-building in a brutal Globalized "New World Order."
---
We Also Recommend