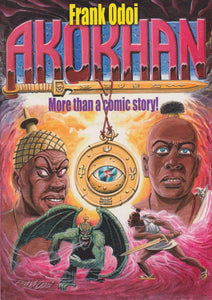 AKOKHAN By Frank Odoi
KSh75000

KSh750.00

Save KSh200
---
---
Presumed to be two hundred centuries old, Akokhan is back with vengence. Living under different guises, he is determined to send Tonkazan, his nemesis, to the Dark Age where he came from.
Tonkazan, on his part, is now bigger, bolder and even more daring. He invokes the evil powers of Kolia-A'Bu, which he uses to revive all the dark, eveil, doomsda forces of his Askiyan past. His mission? To destroy all thse who defied him. 
When Akokhan meets Tonkazan, the stage is set for a bruising battle: a battle pitting good agaist the archaic and one that would determine whether the future holds hope or doom.
AKOKHAN is a powerful as it is spellbinding. Indeed, a perfecvt example of what onle the finest in the world of comics can create - more than just a comic story.
---
We Also Recommend