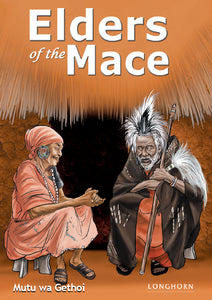 ELDERS OF MACE by Mutu wa Gethoi
KSh60000

KSh600.00

Save KSh200
---
---
Watuland, a fictional country in Africa, is in turmoil. People have abandons their culture and the effects of poor environmental management are felt as rivers dry and drought bites. The authority of the council of elders is weakening, especially with the death of their chief elder - Chuchu Mukulu.
To bring back order, the elders revert to their age-old cultural wisdom but also seek the help of the most learned son of the land - Tene - who is in America. As they wade through the maze of discovery, a beautiful story unfolds where readers see a vivid picture of the post-independent Africa society, culture and traditions. Issues of governance are addressed through a social commentary on equitable distribution of resources, gender balance, corruption, bad leadership and police brutality.
A read through this captivating story reveals the African's effort to address issues affecting them through an integration of modern education, technology and traditional culture.
A people without reflection are doomed for they cannot sustain tomorrow - Elders
---
We Also Recommend