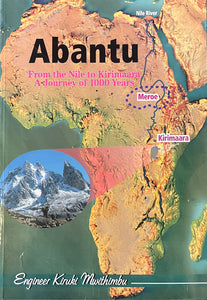 ABANTU - From The Nile to Kirimaara, A Journey of 1000 Years by Engineer Kiruki Mwithimbu
KSh2,70000

KSh2,700.00

Save KSh300
---
---
This is a book of history spun around common myths of origin fished off medieval archives of the Abagusii, Agīkūyū, Akamba, Aembu and the Ameru. The narrative starts from the banks of River Nile in an area where rive Atbara joins the Nile. The time is around 350AD when the Roman Empire was in its deathbed under pressure from new conquerors emerging from North Africa and the Middle East. 


It was this same pressure keg that rampaged through the City of Meroe and left it in ruins. What conventional history doesn't disclose is that Meroe was a city built and run by the Bantu people after having been displaced earlier from their ancient home of Egypt, (Misiri) where they interred their Kings and Queens in one of the greatest wonders of ancient civilization; the Pyramids. 


The storyline traces the migration of the Bantu from Meroe to Ethiopia (Abachinia) down to River Omo to Lake Turkana, to Elgon, around Lake Victoria and finally their present day settlement around Mt. Kenya. 


The narrative is enriched with known and hitherto unknown morsels of history, geography and folklore designed to create an interesting read both to the cursory paperback reader l, the cultural enthusiast and historian who may connect with a lot of information about our past. 


---
We Also Recommend