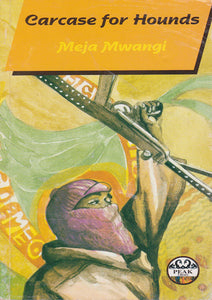 CARCASE OF HOUNDS by Meja Mwangi
KSh75000

KSh750.00

Save KSh50
---
---
Meja Mwangi second Mau Mau novel tells the story of an Anvil. The group 
is under the command of a general called Haraka (Hurry) and the plot revolves 
around the fight between Haruka's men and British troops led by a Captain 
Kingsley.18 The fictional protagonists, Haraka and Kingsley, know each other as 
Haraka was once chief of a village under Kingsley's jurisdiction. The Captain is under
pressure from his superiors, who demand immediate results in the attempts
to crush the resistance met with from Haraka and his men.
The narrative displays an obvious ambivalence in characterisation, theme and language
. The narrator portrays the protagonists as partly human and 
considerate, partly brutal and repressive, but with a difference. Haraka is 
endowed with the most negative personal traits. He kills three of his own men.
Towards the end of 1954, as a result of the so-called villagization programme, 
about one million Gikuyu were resettled in 800 new villages surrounded by 
barbed wire and watch towers. This is an indication of the difficulties Mau Mau 
had to face to get support and supplies.
---
We Also Recommend