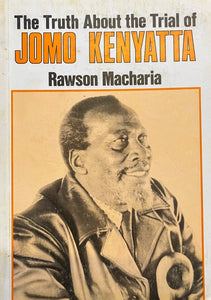 THE TRUTH ABOUTH THE TRIAL OF JOMO KENYATTA
Jomo Kenyatta remains one of the most charismatic leaders during and after the colonial Africa. In death as in life his story continues to grip the imagination of many people. Historian and commentators on political struggle against colonial domination in Kenya hav variousLu regarded Kenyatta's trial at Kapenguria in 1952 as pivotal to the whole struggle for independence in Kenya. Kenyatta and five other nationalists were arrested, charged and detained for masterminding and managing the Mau Mau movement that waged the formidable armed struggle against British colonial rule. 


The key prosecution witness at the Kapenguria trial was Rawson Macharia who had been depicted as an arch villain of the Kenya nationalist cause. In this unique, rare and extraordinary book, Rawson Macharia, after more than thirty years, recounts the historic events of intrigue and manipulation leading to the trial and birth of Kenya as an independent nation. 
---
We Also Recommend