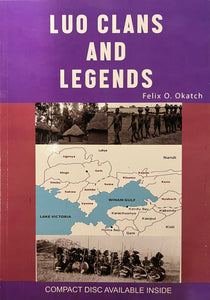 LUO CLANS AND LEGENDS By Felix O. Okatch
Luo Clans and Legends provides a rich history about Luo clans and settlements. This book has attempted to fill the historical gaps that were not given attention by earlier renowned scholars. It provides a micro-analogy of Luo Clans and sub - clans. 


at the inner back cover of this book, there is a CD which has some stories as told by carefully selected informants. This enriches the reader's knowledge, understanding and appreciation of the Luo Clans. We hope you will enjoy the stories and historical journey of the Luo people. 
---
We Also Recommend