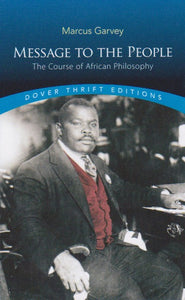 MESSAGE TO THE PEOPLE By Marcus Garvey
Reprint of the 1937 Lectures given by Garvey to the Universal Negro Improvement Association. The Universal Negro Improvement Association and African Communities League (UNIA-ACL) was a black nationalist fraternal organization founded by Marcus Garvey, a Jamaican immigrant to the United States. The Pan-African organization enjoyed its greatest strength starting in 1919 and was influential in the African American community prior to Garvey's deportation to Jamaica in 1927. These lectures, given to Garvey's most trusted organizers and elite students, comprise 22 chapters covering a wide range of material, mostly in the form of advice as to the conduct of life for African American and Pan-African persons. They provide an insight into of Garvey's philosophy and teachings, and an apt summary of his views of how, according to Garvey, to conduct one's life as an African American or Pan African.
Chapters on Intelligence, Education, Leadership, Elocution, God, Character, Christ, Self-Initiative, Personality, Propaganda, Winning and more.
---
We Also Recommend