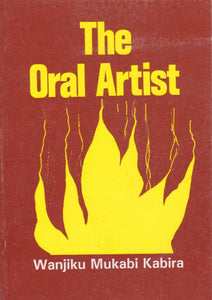 THE ORAL ARTIST By Wanjiku Mukabi Kabira
At a time when the study of oral literature has become very important in schools and colleges, the author of this book has come up with a very fresh and stimulating approach to the subject. She has managed to capture oral literature as a vital living force. 
In 1977 the author, while carrying our research in oral literature, participated in storytelling sessions among people from Kanunga sub-location, Kiambaa Division in Kenya. She become intensively aware of individuality of the creative oral artist and was immensely impressed by the accomplishment of the one narrator, Kabebe wa Wanyaroco.
This book is about this artist, his art and his community. It seeks to answer the question what makes Kabebe an accomplished oral artist, analyses the methods and style of oral narratives, with authentic spontaneous circumstances, and discusses the social meaning and vision of oral narratives within the community in which the are told.
---
We Also Recommend