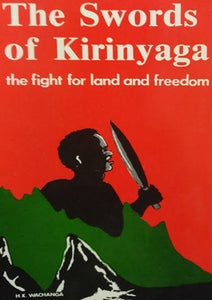 THE SWORDS OF KIRINYAGA by H.K Wachanga
This book is written for the general reader. It is not a definitive nor comprehensive study of Mau Mau. It's value as a research material lies in it's primary nature, and in the paths it opens for further inquiry. It's an eye-witness account of the fight in Kenya forests by one of the principal leaders of Mau Mau Revolt of 1952 - 1957.

Henry Kahinga Wachanga was in excellent position to know of the vents in Aberdare forests from January 1952 to December 1955. In addition to having first hand knowledge of events around him in those forest, he was also aware of happenings in Mount Kenya forests, in European settled areas, in the African reserves and in the towns. He was privy to this information because of his role as Mau Mau general secretary. He was frequently pre-sent at the numerous meetings in the forest where major decisions were made by bug leaders; Stanley Mathenge, Dedan Kīmathi and Mbaria Kaniū. Indeed, he influenced and formulated some of them.
As the editor says ''perhaps the time for remembering and understanding the past and it's effect on post independent Kenya is at hand''.
---
We Also Recommend