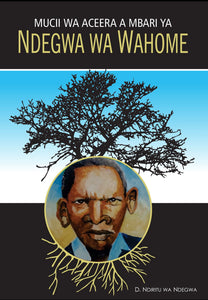 MUCII WA ACEERA WA MBARI YA NDEGWA WA WAHOME By Nderitu wa Ndegwa
There is a history largely unknown by my people of the Aceera Clan. Aceera is one of the nine clans from the daughters of Gikuyu and Mumbi and they are renowned for their various exploits. My late father's home and the village in which it stands is a perfect example of a Gikuyu homestead and the Aceera people of this homestead.
It is important that the family of Ndegwa wa Wahome know where they came from and trace their roots for the sake of keeping with their ancestral heritage. In this book, I have spoken about the importance of our background as African people in general and reminded my people why it's important to know how they come information from their African roots. A family tree for instance sets an example on tracing one's parental and ancestral roots as it also shows where the primary relationships are formed from. It is important that my people are knowledgeable about themselves, each other, and the people they biologically relate to.
Further, there are stories and fables that directly impact the teachings of the Agikuyu people in general and are useful in helping shape the direction of our future generations. I would like to implore my kin to do their best to ensure that the children of their loins know who they are and remind them that the wars and relocations that their ancestors fought against the invasion of the western colonialists was to protect them and ensure that their heritage is not lost. This should not be lost and should be held in true sacred nature.
---
We Also Recommend