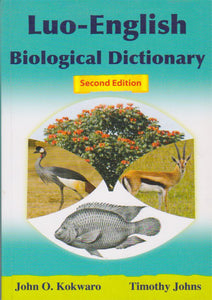 LUO - ENGLISH BIOLOGICAL DICTIONARY By John O.Kokwaro
This second edition of the Luo-English Biological Dictionary contains an extensive coverage of the flora and fauna of the Lake Victoria region of East Africa. The region is mainly occupied by the Luo community. It comprises the LUo ethnosystematics and ethnobiological account including indigenous foods, traditional medicines, ritual and other cultural uses of plants. The dictionary is a result of over 20 years of research carried out by the authors. 
This edition has been expanded to include more botanical entries and an additional section of zoological terms. Individual entries include the luo terminologies, their botanical/zoological equivalents, common name (when applicable), physical descriptions, there prevalence and their economic uses. he dictionary is well illustrated to facilitate identification of the various plants and animals.
---
We Also Recommend