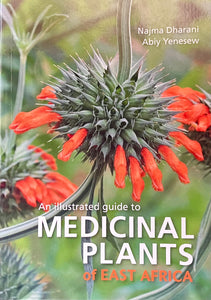 An Illustrated Guide to MEDICINAL PLANTS OF EAST AFRICA by Najma Dharani & Abiy Yenesew
KSh3,60000

KSh3,600.00

Save KSh300
---
---
This book is the first photographically illustrated guide to East Africa's most important medicinal plants. In all, the medicinal uses of 136 plant species are described. All of these plants (be they indigenous, naturalised, or exotic) are in everyday use among traditional healers in Kenya, Tanzania and Uganda.
With more than 600 colour photographs, the book ensures that each plant, as well as each one of its salient features (its bark,leaves, flowers, and fruits) is pictured for ease of identification in the field. Medicinal uses for each plant are clearly set out, with detailed recipes for the preparation and administration of remedies for a wide range of common ailments and afflictions.
For all the plants showcased in this beautifully designed book, there is a short summary of what modern science(pharmacology and chemistry)tells us about the healing affects of the herbal remedies that are derived from them.
---
We Also Recommend