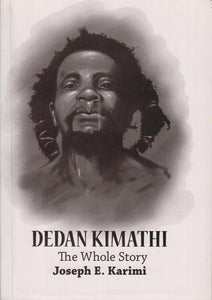 DEDAN KIMATHI: THE WHOLE STORY by Joseph E. Karimi
The name Field Marshal Dedan Kimathi evokes memories of the Maumau warfare if not the struggle for Kenya's independence in it's entirety. Though a lot has been said and written about this enigmatic, larger than life figure, none compares or comes close to this exposition. This book is the culmination of four-and-a-half decades of relentless research on the intricacies of his heroic exploits as a liberation maestro.

The author has painstakingly delved into the subject by seeking firsthand information from people who literary rubbed shoulders with Kīmathi at various stages of his life. He offers the reader a fastidious odyssey through Kīmathi's life from birth in a humble background to the moment he was hanged and subsequently buried in an unmarked grave. The book also offers new insight into machination of the war for the liberation in Kenya.

At the outset Kīmathi is such an ordinary lad you can barely pick him out off the crowd. He cherishes his romance, and even fails to build a 'thingira' or a bachelor's hut. Nonetheless, his phenomenal progression as a flamboyant dynamic, resolute, brilliant and patriotic youth coalesced into making him one of Kenya's most celebrated freedom fighter.
---
We Also Recommend